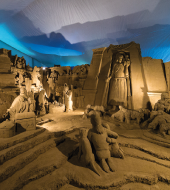 Sand Nativity
Visit it from home
XVII EDITION – "Cure, hope and love"

Also in 2020 the long-awaited Sand Nativity of Lignano Sabbiadoro returns, now in its 17th edition, a central attraction in the calendar of Christmas events in the Friulian seaside resort.
The Sand Nativity in Lignano is organized by the Dome Aghe and Savalon d'Aur Association, with the support of the City of Lignano, in collaboration with Pro Loco Lignano, Lignano in Fiore Onlus, Lignano Sabbiadoro Gestioni and with the fundamental contribution of the Lignano associations.
The theme of the 17th Edition of the Sand Nativity is "Care, Hope and Love".
Only if you take care of the other can you save yourself, as individuals, as a community, as a gender. Only if you "take care", you can build the present, planning and preserving at the same time the future and the life to come.
The 2020 edition of the Sand Nativity is currently not physically accessible in compliance with the Covid-19 regulations, but you can still bring the Nativity to your home by virtually visiting the sand exhibition.