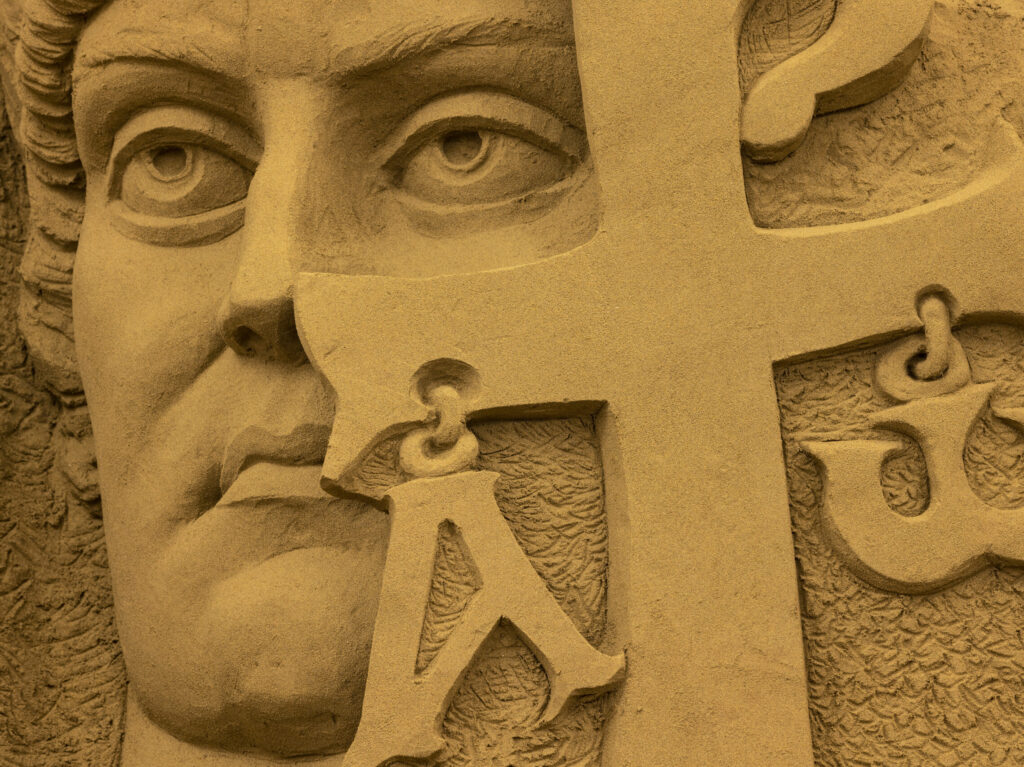 Sand Nativity
Beach office n°6
19th EDITION 
Also in 2022 the long-awaited Sand Nativity of Lignano Sabbiadoro returns, now in its 19th edition, a central attraction in the calendar of Christmas events in the Friulian seaside resort.
The interior layout, renewed in its technological components, has been developed to enhance the plasticity of the sculptural works resulting, this year, from a long project work curated by Lara Gonzo and Master Mario Vittadello.
The theme of this edition draws free inspiration from the Theodoric mosaics of the Basilica of Aquileia and intends to mention figuratis to the multiform origins of Christianity in the territories of Aquileia and the upper Adriatic; a Christianity that, coming from the eastern basin of the Mediterranean Sea full of different theological contributions, it was reworked in the heart of the great and cosmopolitan Aquileia, and then reached, almost by gemmation, the entire Friulian land.
A theme that has been translated into a journey suspended between history and legend and that has found expression in the competition of different artistic languages united by two main threads: "the sea" and the "colors of light". You can, in fact, walk on a stretch of mosaic floor that faithfully reproduces, in color and size, some segments of the floor mosaic of the "Crypt of the Excavations", work of the Mosaic School of Friuli Spilimbergo; you can admire an impalpable rainbow made by Jacopo Rumignani with very light and transparent fabrics; there you will find, finally, before a grandiose digital video installation that will allow you to make an immersive and almost mystical experience in the saving and colorful waters of the mysterious "sea of Jonah".
The Sand Nativity in Lignano is organized by the Dome Aghe and Savalon d'Aur Association, with the support of the City of Lignano, in collaboration with Pro Loco Lignano, Lignano in Fiore Onlus, Lignano Sabbiadoro Gestioni and with the fundamental contribution of the Lignano associations.
OPENING HOURS 2022-2023
from 8th to 11th December 2022 | 10.00 am – 6.00 pm
from 12th to 16th December 2022 | 2.00 pm – 6.00 pm
from 17th to 24th December 2022 | 10.00 am – 6.00 pm
25th December 2022 | 2.00 pm – 6.00 pm
from 26th December 2022 to 8th January 2023 | 10.00 am – 6.00 pm
14th, 21st, 28th January and 4th February 2023 | 2.00 pm – 6.00 pm
15th, 22nd, 29th January and 5th February 2023 | 10.00 am – 6.00 pm
Download the brochure of 2021 edition